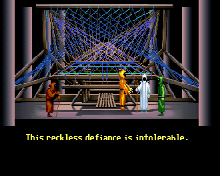 NOTICE : Web page discontinued
I'm not actively participating on this project anymore. For the latest updates, visit the official ScummVM Windows Mobile forum and enjoy Kostas and the team nice work :)
NOTICE : Web page discontinued
Frequently Asked Questions
La Fnac a eu la bonne idée de réediter beaucoup de jeux Lucas pour un bas prix (10 euros) : vous pourrez trouver The Dig, Escape from Monkey Island, Full Throttle, Sam & Max parfaitement supportés par ScummVM mais également Grim Fandango pour 8 euros ... il serait dommage de s'en priver :)
Broken Sword (Les Chevaliers de Baphomet) 1 et 2 sont (étaient ?) disponibles à la Fnac/Virgin collection Sold Out pour un prix très modique (12 euros le pack à la Fnac). Autrement dans des magasins en ligne
Un pack de jeux Lucas très intéressant (avec Monkey Island 3, Full Throttle, Maniac Mansion 2 (donc Maniac Mansion 1 inclus avec), The Dig et Sam & Max parfaitement supportés par ScummVM, et Monkey Island 4, Grim Fandango non supportés mais excellents quand même, enfin surtout Grim :p) est en vente sur Amazon ou Alapage entre autres pour moins de 40 euros !
PocketSCUMM is the unofficial name of the Windows CE ScummVM port, as it was one of the first ports back when PocketSomething names sounded good :)
For general questions about ScummVM, there is a well done ScummVM FAQ on Sourceforge.
Check ScummVM compatibility list.
Short answer : Download the binaries or compile the sources, put the executable in a directory with your game files (the .000, .001, optionally .SOU or .SO3 files).Then run PocketSCUMM.exe and follow the instructions.
Long answer : Some games need to be put in a specific directory, and you may want to compress the audio files of some others - check this PocketMatrix tutorial for more informations.
You must own the original games to use ScummVM. They are really worth it and not expensive !
If you're looking for free stuff, you can play Beneath a Steel Sky kindly donated to ScummVM by Revolution Software, Flight of the Amazon Queen kindly donated to ScummVM by its authors, or try the game demos.
Of course ! PocketSCUMM is just a branch of ScummVM, which is released under the GPL (General Public License) - see http://www.gnu.org/copyleft/gpl.html for more information on this license.
As ScummVM, this port is to be considered work in progress (and it even adds some bugs on its own :p).
See the Support page to know how to report bugs and find help.
Choose the action to map, press map, the press the key, and finally press OK.
Last modified: June 07 2007 00:22:52. - Site is almost completly discontinued, do not expect quick changes :)