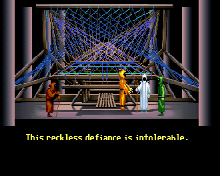 PocketPC 2002 MIPS download
Stable version : 0.6.1b - view WinCE Changelog - report issues.
Unstable 0.7.x version : branch 01/10/05-1 - view Changelog
Unstable CVS head version : Not available.
Previous Stable version : 0.5.1
Paletted devices are not correctly supported, even when using GDI.
Generic ScummVM scalers to be tweaked for HPCs/E800 (template functions were compiled incorrectly thanks Microsoft - Normal2x, Advmame2x and Dotmatrix seem to work though)
Improve filtering for 640x480 games on 320x240 screen (if you want to contribute check the CE scalers).
Remap left handed landscape.
BASS intro is slightly out of synch, but better than before :p
Monkey 3 videos are slightly out of synch.
Last modified: January 12 2005 09:26:48. - Site is almost completly discontinued, do not expect quick changes :)